GRIT…OR IS IT?
Some of us run for health, some for status, to show off, to stay fit. Some, again, to escape, have some time for oneself, become a part of something bigger, a part of a group.
In my case, well, to be honest it was a mix I guess. I was fascinated with the amount of people who liked it. I wanted to check for myself.
So I did. I remember my first run, in Poznan, close to my dad's home. Then, another one, with a bit less frustration… And suddenly, I was running. Running away. That was my way to get out. Primarily out of my own head. The more I was running away, the better I got at it. Till the moment after my first 10k RunWarsaw, I couldn't move. The muscles – naturally, I didn't mind that pain. But my knee was the problem – I broke it skiing a decade earlier. It took a while to get better, a lot of effort, not just mine. After a year I went back to skiing. Yes, it hurt a bit sometimes, but hey, wasn't that normal when you're carrying not only your own body but also some additional 11k in the shape of a baby?
So, going back to running – here I am, running indeed. Running away or running for the time just for myself, for any break from the spinning thoughts. My getaway, suddenly taken away with the knee that wasn't working. With the help of my great friend, I ended up in a sports clinic for tests, it turned out that the ligament, ACL, is in fact torn. So now, instead of running I had time to get ready for the op. Another beautiful runaway… Then, getting better after. I did it religiously, day by day. After three months I was back on my feet. Slowly coming back to my sports life, I took to swimming too. Swimming away….well, why not.
A year later, my first half-marathon, in Poznań. I went so well (no, not time-wise, satisfaction-wise) that I didn't stop…I was sooooo good at this running… I spend whole summer training regularly – stunning surprise to me as I have always had this belief about myself that I am simply unable to be regular at anything. So, why not go faster, bigger, more engaged… I was preparing for my first survival race followed by a second half-marathon that year. Any sane and smart runner will tell you it was far from clever… I know that now, but back then, it didn't matter. I felt so safe, so far, so… not in my life.
While training on he beach, something hurt in my hip, a bit, just slightly, unnoticeably… Like quiet cry "Ewa, maybe not?". Did I listen? Well, you know the answer, right?
The survival went great, I had fun, I enjoyed the company of great people, I hurt my hip to the point I couldn't walk to the car. But surely, I could get on the plane three days later to fly to Cheltenham for yet another run. And to meet my beloved family. Almost anyone has this favourite family member. This aunt, grandpa, cousin… whoever – the one that shows you a different kind of the world, helps to understand what's going on, tell the family secrets…Well, my family in England has been the One for me. Their place is my safe place. What a combination, running and Cheltenham! A combo. For what? Who cared…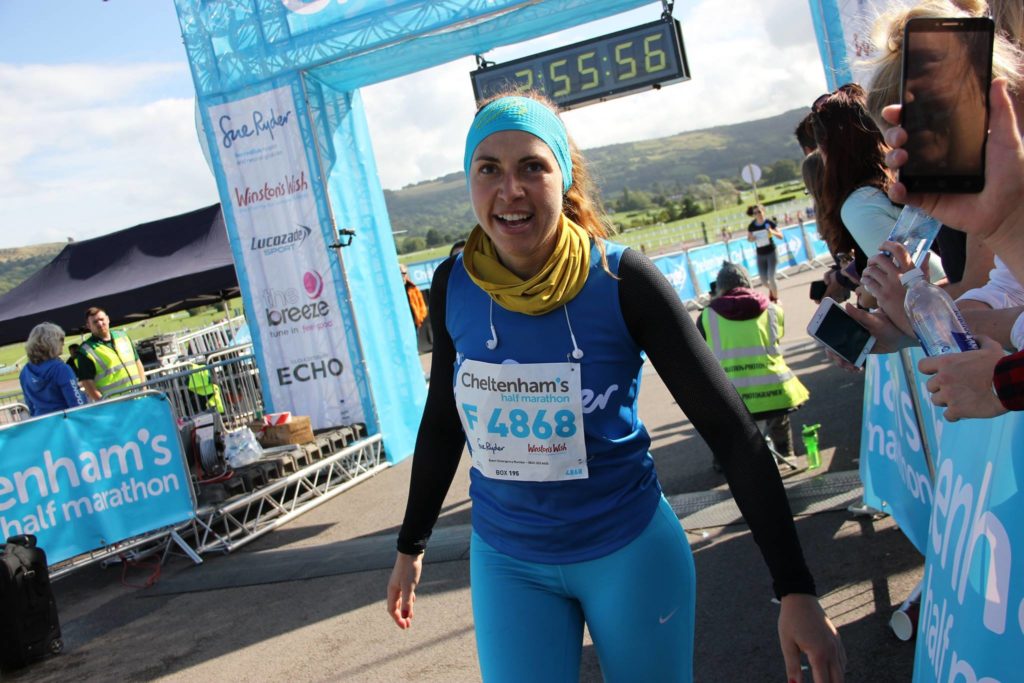 I broke it. The 13.1 miles took almost three hours. I walked, cried, got angry. I was limping already at the start line. I remember strangers talking to me at the finish line "we saw in town, you were suffering, are you ok?"
The VIP flight home was unforgettable. The pain also. The mess around figuring out what exactly is wrong with my hip too. Altogether it took over twelve months. Hours of physio, diet (I hate diets! I see them as a limitation only unfortunately – still an area to address ;D), four MRIs as no other imaging deciphered the fracture… it was well-hidden. Right in the core of the bone. As if you stuck a tiny needle in it – excruciating pain with no visible cause.
This was supposed to be a text about grit. The way Angela Duckworth and her team in Character Lab see it. The way we can practice it with Dr. Dweck's Growth Mindset.
Dr. Duckworth says grit is more important than talent. That having a mission, life philosophy, a greater cause that organise your actions is of great significance. In her book, "Grit. The power of Passion and Perseverance" she also describes what she found as necessary to work on your grit. To me, the most moving part was about acceptance though. The readiness to do boring, repetitive, simple tasks seems to be the core here. The ability to see your actions in a longer time perspective combined with the willingness to sacrifice remains present throughout the whole book.
The willingness. To sacrifice. Not the kind of sacrifice that makes a martyr. None of the stories quoted by Angela are of sorrow, they are all about the gritty people who are able to accept and believe in the growth that comes with time. There is a lot about effort and perseverance.
Am I a gritty person? I thought I wasn't. Then, maybe I am.
I am certainly gritty when it comes to running.
Running away.
Gritty at not reading the signs I fear to read. Gritty at pretending.
At least I was.
I lost my escape. I cannot run now more than 5k, my hip and, knee for that matter, are in the best condition possible but my urgent need to run away made it impossible for the joints to heal fully.
I lost my escape. But most probably gained something far more monumental. My self -awareness.
Damn, it's been a hard lesson and an even harder path to follow.
But these days, I dare – I have learnt how. I daresay I do not want to run anymore. I want to live my life, be in my life, grittily fight for the growth and truth. Big words, I realise that painfully well. This is where I begin as putting them into aims and action is yet another story…
#lifeexperience #experiencelife #grit #growthmindset #selfawareness