A SAFE PLACE
I've been struggling. This text was supposed to be "thriving on a storm". This text was supposed to be published almost two weeks ago. This text was supposed to be about coping.
But none of this happened. Or maybe it actually did? But not in the way I expected, wanted, thought it's best, necessary?
So, the story goes like this. My work is primarily about being with people, letting them grow. My current most rewarding and overwhelming sometimes job is educational coaching. For over a year now, I have been a part of a great team at Akademeia Tutorial College. We focus on letting our Students do what is needed at present, aiding them as much as we can remotely. I speak to Students on a weekly basis about staying in good state, using stress to their advantage, accepting the unavoidable frustration…
It seems I forgot about myself. I became so occupied with preaching that I forgot the practice part…
Bad idea, very bad.
To me, a sheer rookie at blogging, this is the place where I want to share something I perceive as important. Sometimes it works, sometimes it doesn't I suppose. Telling you my stories, I need to have a purpose. An idea that is worth mentioning, naming, addressing as perhaps reading it will, eventually, evoke the "me too" reaction. I'm writing about the previous weeks to tell you and myself for that matter something you probably know, but I still consider important enough to repeat and remind…
we're in this together
What has been worrying me the most during the last several weeks is the pressure we feel to "stay positive", "look at the bright side", "accept the reality", "learn something new"… It is all true to me – I believe in the all above but not at any lengths less than in the simple act of trust. The Trust you place in yourself, in your mind, in your body, combined. My mind tells me it's ok. My body tells me it is not at all. My emotions are wild, my thoughts are racing. So where's my trust? In all of these. I have learnt, the hard way, that neglecting any of the above never works for me. But here comes the hard part. In my case, and perhaps not only in mine, one-time enlightenment is not enough.
It is a process, a never-ending story of perpetual dance, always one step further but still always on the move.
So, here I am realizing to what extent I have forgotten about myself and my process. And mind you, this "realising" itself took time. Once this ball lights above my head, the wheel's spinning as…been there, done that – feel a bit more ready, many a time. Fortunately or not, haven't decided yet… But I feel also lucky enough and ready enough to use the world around to help in these rather critical moments of struggle. In my case, this means reading the signs, making sense of what comes my way. This time it was a computer with some lovely design in the form of a spilt coffee on it…
"Have a break girl!" – my unconscious mind said.
"OMG, seriously?!" – siad the conscious one…
All in all, I needed to leave home, travel, ask for help…to begin with. Taking into account my state before, it turned into a lesson of humbleness, accompanied by a rather vast range of other emotions…to put it mildly. A sort of an emotional ride I gave myself. Or the world did. Or, I don't know exactly… But as with every ride of mine (yours too?), there's a feeling of liberation in the horizon somewhere there…and an overwhelming feeling as if I was in a washing machine, cleaning my ideas, checking which ones survive the washing powder test of bringing me closer to my values, and the softener test of letting me be vulnerable in Brene Brown's way. Is it a pretty moment? Oh no. Easy? Oh no. Worth it? Every single time. Does it get easier? Nope… And that's my revelation really.
It doesn't get any easier. You get stronger, calmer, more loving, accepting, happier…
And there, in the cyclone's eye, I found it. The key – there's one thing that helps me every single time. An aim stable, broad, far enough to let me still crave it no matter the present turbulence. This time, the world gave it to me in two forms. As I was going through my data on my Mac in order to organise myself back after the coffee-gate, I came across this pic you see above.
It's my older son during our holiday five years ago in Croatia. We're at Peljesac peninsula, my fav place in the world. He's looking towards a spot we visited earlier that day. He's facing the route towards a village where I want to live one day… And there it was, a dear memory of mine. A memory of a great training during which one of the tasks was to describe, in detail and all modalities: audio, visual, and kinesthetic, the brave, audacious aim of ours in the form of a letter. In seconds, I had it. I read it. Went back with my thoughts and feelings to that moment of writing the letter and to being in that spot. It caught me by surprise, at my dinner table and it took me few minutes.
It will pass? It will pass! It will pass.
All this mess, this emotional ride and this washing of mine is for a purpose, and will pass. This simple yet not so obvious to me, idea appeared truly soothing. Gave the perspective I needed.
I'm still healing. Going through my process, remembering what Winston Churchill would say…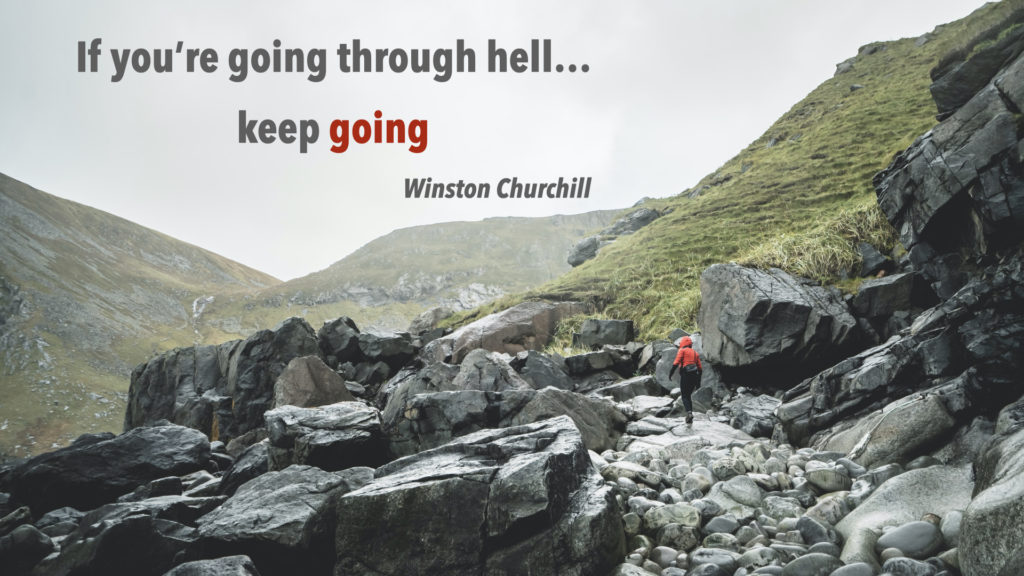 Are you going through hell? Are you on a not-so-joyous ride? How is the washing going?
Because, we're all in it – being a human.
For me, moving the horizon is apparently the key. Thank you, Martyna Wojciechowska for that.
And you? What is your key? Would you have a letter to yourself with the great audacious aim? Or a photo of Stas in Croatia?
What helps you? What keeps you going through your hell?
One of my students told me today that she hates rhetorical questions in emails…
Well, I hope you can forgive me these ones, my Dear Friend.
If not, I believe it is not the questions that are annoying but rather the answers that come…
Oh, I almost forgot. The cherry on the cake… Remember my cousin who had to call off her wedding? Well… we've got a new date! And I cannot wait! Yet, another grand moment to look forward to…
Dear World, Annie, Ola, Marek, Stas, Croatia…
Thank you