MINT, BASIL, THYME, IVY, CITRUS, AND…ME
Once upon a time…no, just kidding… It was exactly three years ago, when I moved into my new flat. The very first moment I saw it, I knew – it is my place to recover. Since then, I've lived every inch of that place. The balcony in particular.
Plants never grew around me. When I was a girl, I had few cactuses and that was it. But they dried.
My mother, on the other hand, grew a blooming cascades on our balcony. I recall the photos so well, of her, surrounded by those flowers. I rarely saw her proud. Then, I did. She loved geraniums and petunias. I couldn't stand them.
No flowers have ever bloomed in my flat. When I moved to Warsaw, or earlier, when we bought a house with my dad – never ever did anything grow. I'd never lived in a house before. Approaching the garden was as far from my world as lack of diversity is nowadays. It was my dad then who after a while befriended gardening, flower pots, bushes, the beautiful pine tree in front or the vines at the back.
All flowers would die in my flat. When I moved to Warsaw, I tried. With tall ones, already fully prepared for the battle. Nope. Or with petunias and geraniums – thought this might work. Nope. No wonder there though, but I had to learn the hard way.
Then, I moved. Literally, I moved every inch of me. Inside out. Back and forth, top to bottom. I once saw a framed quote put on my cousin's wall saying: "I don't know where I'm going, but I'm going. Are you going with me?" That's how life was for me then. I constantly asked Life – Are you going with me? I asked my Body, my Mind – are you going with me? I wasn't always sure. A lot of those days I'd spend on trainings – yes the ones led by Marek, from this post: A FAREWELL
My plants never grew. Until I grew. I remember well the first one. It was a tiny ivy – I've always liked the name. And I heard Ivy is a strong one, a fighter, a thriving paragon. Well, let's see how she (yep… saw her as a she) handles me. I remember even better the moment when I went to buy some soil and a new pot as my Ivy grew out of her old one. I learnt how to take care of her – the right amount of water, the watering frequency, the amount of light – not so obvious at all to me. Then what to do with my Ivy in the winter to let her rest.
We begun to cooperate, learn our routines, moods, co-existing in our environment.
My Ivy grew, survived another winter, stayed throughout hot summers and cold winters. She now is the biggest plant on my balcony, residing in the corner in the biggest pot I could find, enjoying the shade and light breeze, currently growing so fast and so untamed…
I had never been able to keep a plant alive. I have had my Ivy for three years now.
And my boxtree, and my citrus tree, who went to hell and back with me. Currently blooming like never before. He lost his leaves at the beginning. But endured – his will to fight is immense, he holds for a while and then…the unstoppable power unleashed. My Citrus impresses me so much, and every day. I love him.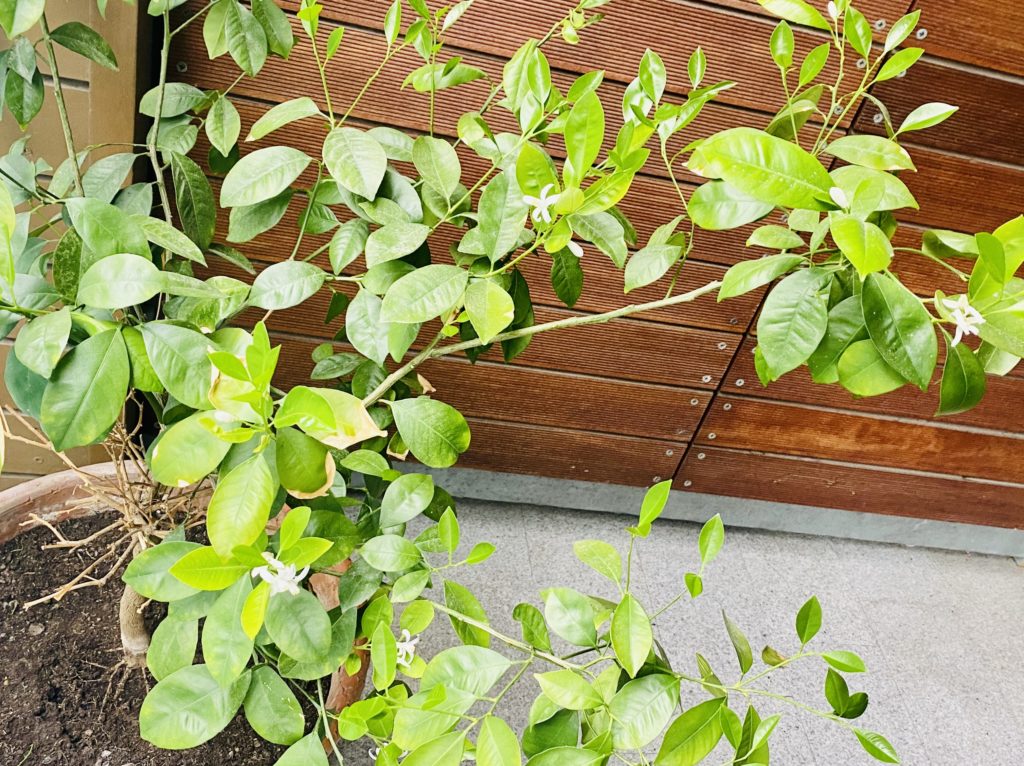 And the herbs… oh, the herbs – that is such a big deal. To me, herbs were the weakest… how wrong was I! The are on the flow now, so strong-minded now. I've two mints – one decided to die a little at first, but then we had a serious conversation about not letting go, my mint decided to flourish…and the second one, well I didn't have to tell him twice! This mint is having his way in everything. Strong, overwhelming, willing.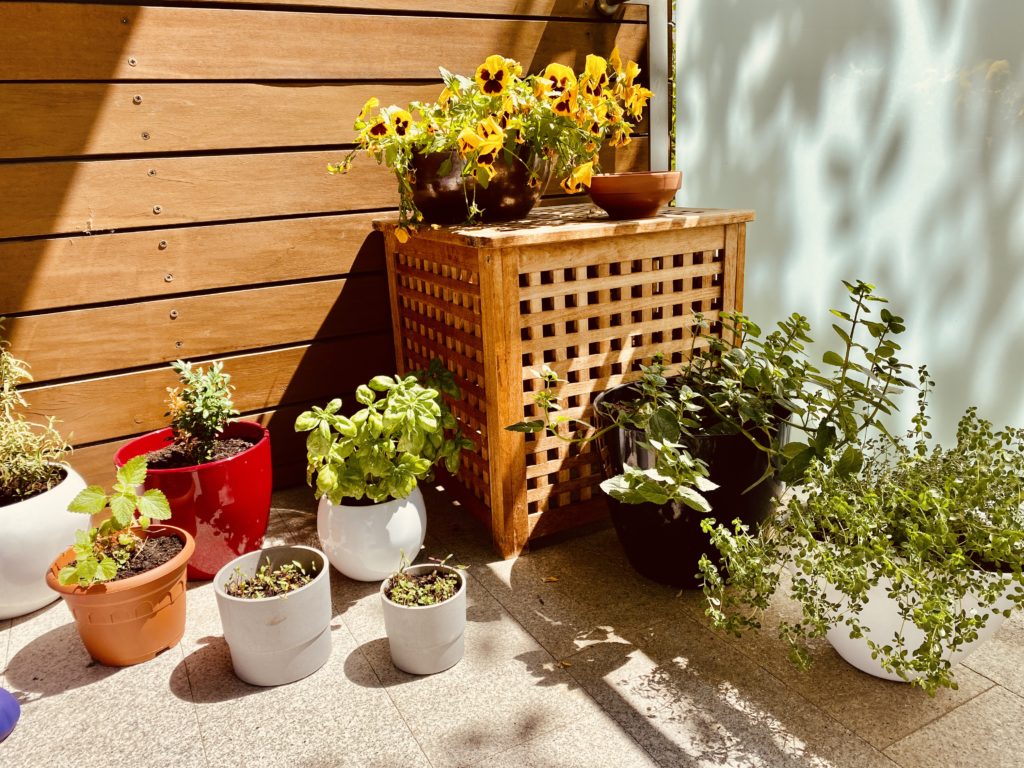 They are accompanied by thyme. Thyme was so shy at the beginning, as if on a halt. Holding his breath, a bit anxious what is this house about here… Now, he grows steadily, constantly, mildly, always knowing how to reach the right amount of sun.
We also have flowers now. I mean like real flower flowers, with colorful petals and everything – M had an idea to bind them together – with one rack to climb. The red and the pink. Just starting that journey now.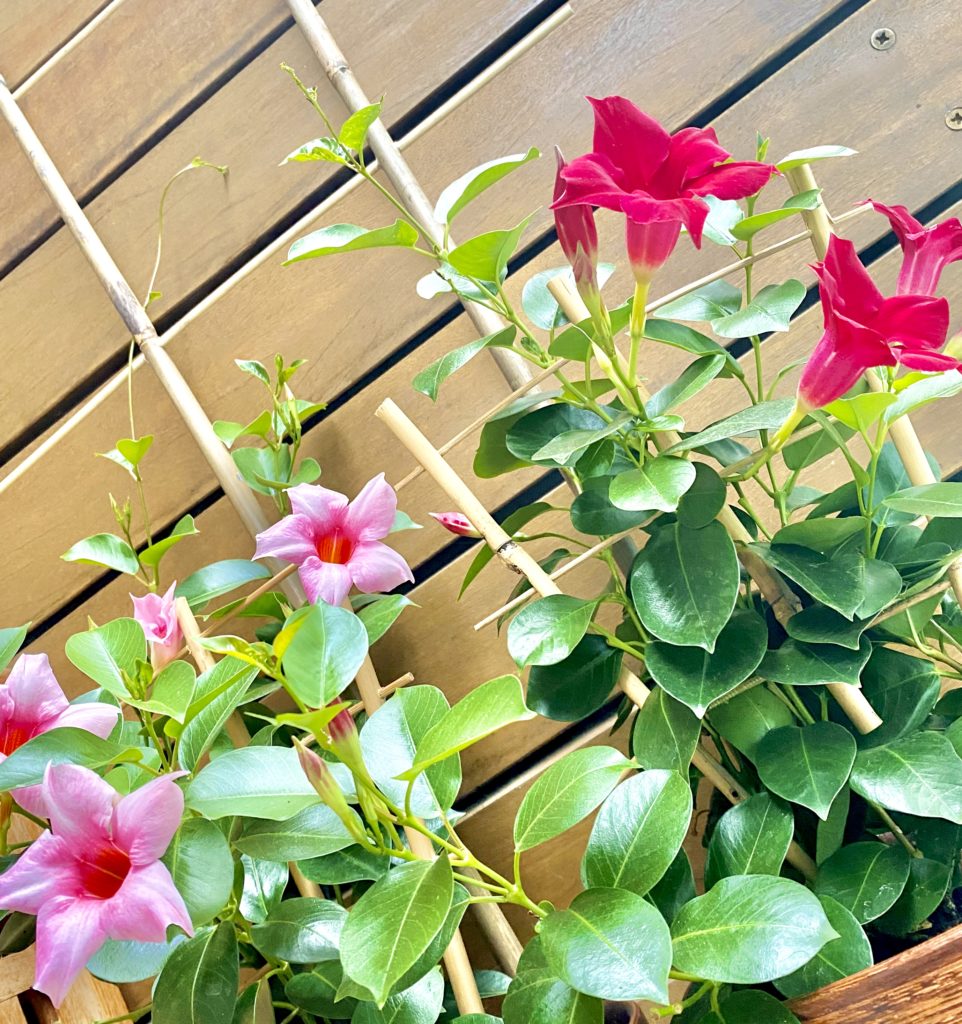 I didn't know how to cherish plants. I learnt. The hard way. But I learnt. And I'm so grateful for that. I still need to learn their power of recovery and not giving up.
Another one is Kindness – still a lesson to learn, but I can see that my kindness and mindfulness with the plants is crucial, never just a rule, more of an adjustment, careful watch, love. After all, as Brene Brown says, "Clear is Kind" – but that's a whole another story…
Are your fingers green?
P.S. I also love the movie The Life of Pi