PEOPLE.PEOPLE.PEOPLE.
In one of her books, Brene Brown tells a story of a speech she was to give on a conference. The whole thing starts with her peeking at the audience and realising what the "C-level managers" meant… While panicking, she received comfort and advice from another speaker, a sound advice she took wholeheartedly, and did too. It's all about people. People. People. People. That's a quote actually. Brene continues with her story to say that the moment she saw simply human beings there, all became much clearer, more real, more honest.
It was less than two years ago. Can't really believe it's that far away in time. One of my greatest adventures – a perfect combination of work and private life I'd seen as impossible before.
My Michal is a sailor, or a water-sports lover I should say. For some time he had been competing with the 505 class – a rather concise dinghy with immense sails and great speeds.
At some point in time, we started travelling together for the Polish Cup regatta. Everything was new to me back then. But already within one season, I had the greatest opportunity to meet wonderful, passionate bunch of crazies, in love with their boats, in love with the speed and with the water. With their minds and hearts wide open, even for someone who is so unexperienced as I was back then, they welcomed me with curiosity that you see with those who care. As simple as that.
I never sailed, I never even wanted to.
But it was all about people there. People.People. People.
From one event to another, we got to know each other better and better, made friends, travelled together, helped each other, enjoyed the evenings, and the days too for that matter.
It turned out that having somebody on the shore may be of use to the Polish 505 Class Association that organised the regatta and trainings. I would spend time among most passionate people I'd ever met doing a job that was both satisfactory and demanding for me. With my lack of experience and their trust in me, I got the change to grow in the area I never expected I would. I loved it. Novelty is a strong driver for me, especially if done with the right people around me.
Again. People. People. People.
So, when the then president of the Association, Przemek Zagórski, asked us all for help with translation I had no doubts. I called him and we agreed on some minor work. The minor work turned into a bit bigger work that then turned into an even bigger task. I was to host the international regatta in Poland. And by hosting I mean become the journalist of daily videos and partly a press officer as well as the anchor for all official events… Let me repeat myself… I LOVED IT!
You know this feeling, somewhere deep in your guts, sometimes close to your heart, sometimes in the feet… the one that tells you – this is it, this is my place, that's what happiness feels like..?
Well, that was it for me. Although, there was nothing light about this job. I was only partly involved in the prep phase, I had only a short glimpse at what an amazing work Przemek did back then, almost on his own. I consider myself lucky to have had the opportunity to have this cooperation going as it was exactly him who taught me the most. It was him who let me to do my job at my best.
So, here I am, getting ready, hosting a press conference, getting more and more excited about it. Few weeks to go…I was thinking, how's going to be? How many guests and participants woudl come. Will I manage?
It was grand… Almost 130 boats, from 14 countries worldwide. Literally. Over two weeks of work, non-stop during hot summertime in Gdynia. The 505SAPWorlds2018 – World championship that take place yearly, on two sides of the globe interchangeably. This time it was Poland – a great success for us, ensured by the one and only Przemek who worked closely with Michal and Paulina – it's all their doing, worth highlighting.
I voluntarily gave up lying on a beach for working twelve hours a day, each day, in any weather conditions, on land and on water (I'm not a fan of RIBs really…now I know for sure). Hours of material – writing, shooting, managing the international teams, jury, guests, dealing with setbacks, simply an ongoing project management. Madness one may say. Oh yes, it was pure craziness incarnated. But, again, there was nothing I'd change. Literally nothing! It made me happy…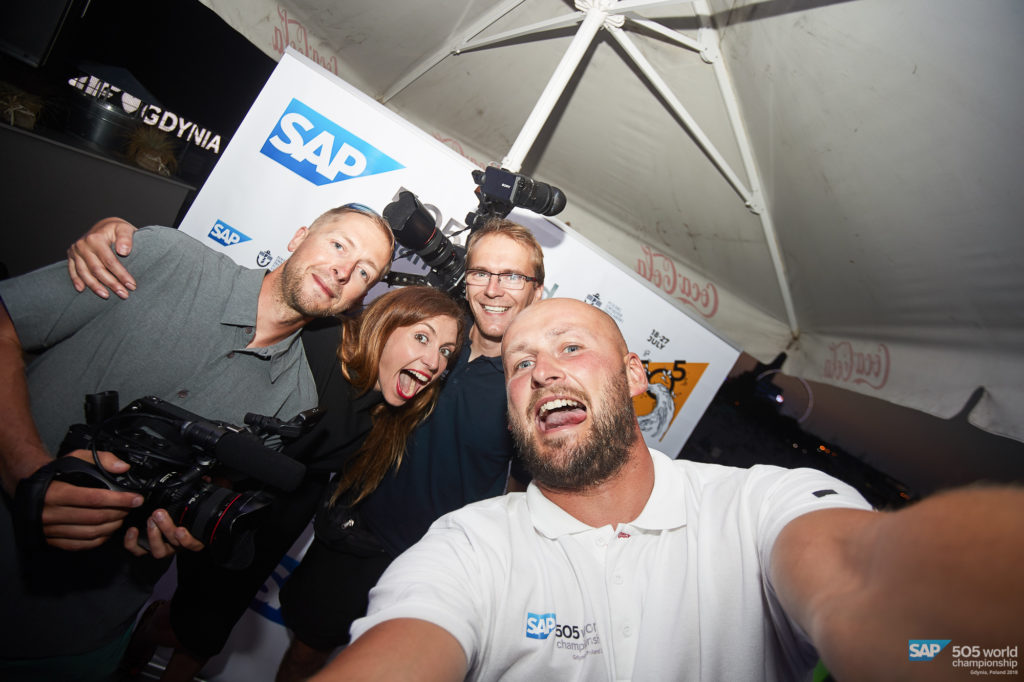 Every second was a pleasure. The writing, seeing the sailors off in the morning, welcoming them back in the afternoon, awarding them daily, celebrating birthdays, celebrating records, celebrating life&diversity. No matter how my feet or my throat hurt, my skin sunburnt, none of it was a burden. Why? Well, yes, you guessed it! People. People. People.
The videography was done by two artists of their profession – I owe them a huge thanks for understanding my multiple roles at the marina, their patience and sense of humour that saved us so many times. The photos, including the one here, were taken by an already walking legend of sailing photography, Robert Hajduk. I just couldn't believe how blessed I was. I still can't. Now when I reminisce the days, I remind myself that such work is possible. That the right people combined with good intentions and grit make my ideal work reality. My greatest lesson learnt… it's always and all about…
PEOPLE PEOPLE PEOPLE.
The SAP2018Worlds have their site: https://sap505worlds2018.com/news and a fanpage: https://www.facebook.com/505worlds2018/
I think we must have done it well as there is still interest in it 🙂
The photo I used here was taken on the last evening, during the farewell party, by Robert Hajduk (https://www.facebook.com/shuttersail) whereas the daily videography was orchastrated by Łukasz Dzida together with his friend Bartek (https://www.facebook.com/dzidaproduction/)
Enjoy as these are masterpieces.
Przemek, thank you.