TALKING TO MYSELF
I remember the train – it was a hot June afternoon – I was travelling to Warsaw from Poznań and on the phone with my friend who worked in the capital at that time. I needed that conversation a lot. I was just about to attend a job interview I knew very little of.
I had no idea what to think. My mind was in a void then, on the one hand happily in love, on the other grieving. As if I had to choose between the worlds. It matters because the occupied mind did not allow me to worry, stress out or fear any of the new situations that were ahead of me. Good and bad, as always. Then it served me well I suppose. I wasn't intimidated when I learnt I'm talking to Rupert Murdoch's right hand in Poland. I got the full picture only when I left the building….
It was a carousel! Within a little over a year I have switched from the PA to HR Specialist and then…to an anchor. An anchor is the name used in News Dept. Those who preset news, are anchors. I was an anchor…nothing less, nothing more, but a weather girl! Oh, that was a joyride indeed!
But the biggest game-changer for me was the time when I worked as a host at a culture program – a daily short conversations on what is currently going on within the world of music, books, ballet, theatre, cinema, exhibitions… anything you could call "art and culture". The program was called Puls Kultury and I loved it! It was the best tv experience I could imagine! I was getting better and better at what I was doing also because I enjoyed it so much! We would commute around Warsaw, take shots, interview authors, dancers, actors, musicians… I was an amazing possibility to also get to know the city. I still felt as a newcomer back then and this kind of job allowed me to really get our of that "only a tourist here" feeling and see this other, sooo appealing side of Warsaw.
I discovered places and communities that made me believe our capital city has much more ot offer than we think…It just needs some… time and effort, surprise surprise!
I was six weeks into my first pregnancy when Rupert Murdoch decided to pull out of his businesses in Europe – well most of them anyhow. My Dept seized to exist. I took a decision then. That I want to stay home. And I did.
The camera experience stayed with me. When, after few years, I went back to being active professionally, I was able to use this up. And the notion of talking to others, but also to myself, as this is how I felt at times, has been a part of my job ever since. But in a slightly unexpected ways.
I was faced with an exercise that used the metaphor of the camera that fundamentally changed my perspective over values in my life. I have been speaking to crowds as an interpreter or trainer or speaker ever since, I worked as a rep for the beauty sector during EU meetings or as a PR rep for a art&design foundation, CAF, when it was launching the project called OfutureZone, I worked at sailing Championship for two weeks as a onshore reporter… (there's more on it here) – EVERY single time, the camera experience was there with me. EVERY single time, I drew upon it and grew.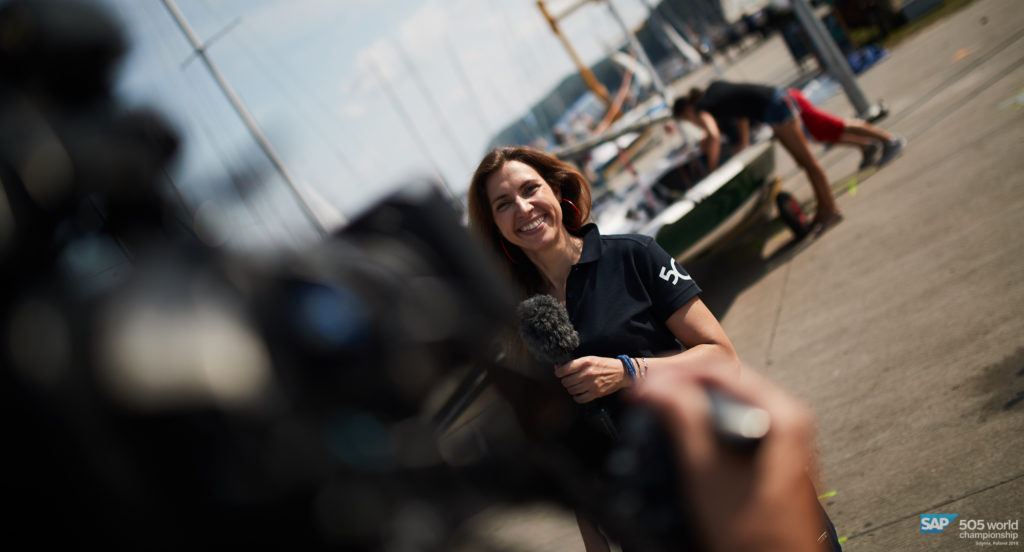 Now, when I work with people on how to talk to others, pitch, present – I often recall those days. I tell them to stay watchful and ready as you never know when a guardian angel my come your way and let you be… a weather girl
My Guardian Angels were plenty. My first boss, Robert, my news Dept boss, Amelia. My dear friend, Aga who recommended me further, the president of the 505Ass, Przemek,… the list goes on and on… The all have one thing in common though – they all believed in me.
And I am thankful for their trust everyday.
I was wondering though, how on earth did this story came to my mind these particular days? Why would I go back in time so much? What was it that I needed to remind myself of?
I'm not sure how about you but in my case it's around 5:00 am…that's the time when my mind sends the message – works impeccably! Apparently, it was fear… Fear of the unknown. Yes, I do fear, of the unknown no matter how much I love novelty at the same time. And now, the Unknown is a little bit more than I could handle without reminding myself of the times when every single day was unknown, when I did things for the first time, when I had to stand face to face with the most fierce judge of all – myself. When we knew we are being let go, but no one knew the rules, timing, number…
So, my dear Friend, my subconscious mind did the work for me I suppose…"Look Girl, it's not that new a feeling here…you've been there, done that, you got this. You got this!"
The amount of talks online I've been having recently is immense. It's a different world, requires of me different skills, different approach. But I'm thriving. I want to. As simple as that. It's worth it.
It is just worth it.
I'll keep talking to myself. It saved me so many times before. I forgot about it. And you?
Are you talking to yourself?